Do You Have Roots In Sewer Pipe Or Septic Tank?
Reading Drain Services Removing Tree Roots In Sewer Line Fast
Tree roots in drains can cause a large amount of structural and other damage to your drainage system and can be one of the most problematic issues you can face in home ownership. Invasive roots are also the enemy of plumbers and their cutting equipment.
Homeowners are sometimes mystified by the discovery of tree roots in sewer pipe or septic tanks when they have no trees in their gardens or grounds. The truth is that tree roots can invade any drainage system from a distance of thousands of feet.
Tree Roots Growing Into Sewer Pipes
This is a natural issue to deal with as tree roots are designed by nature to grow underground to secure the tree and to absorb nutrients and moisture from the earth. Smaller plants such as grass have thin hair like roots, which generally stay close to the surface. Big trees like "The Mighty Oak" and pine trees develop huge strong roots that grow deep underground, and your drain pipe provides a source of water and nutrients that the plants and trees thrive on, so their roots naturally grow towards the source. If the roots find a way to get into the drain pipes and aren't dealt with, they will eventually grow and over time can cause damage to the pipe, a collapsed or a clogged drain pipe.
Types of Sewer Pipes
In the United Kingdom, most properties have clay pipes, galvanized pipe, or plastic pipes for their sewers and drainage systems, the most important points when considering potential root invasion are the age and material of the pipe network.
The pipes that are most vulnerable to root intrusions are Clay pipes. Clay pipes are made in sections measuring 3-6 feet, and then connected together once they enter the sewerage system. This necessarily creates joints. All Joints have their weak spots, and roots have an uncanny talent for locating these areas and penetrating their way through towards destructive invasion. Clay sewer pipes must be installed to exacting standards by an experienced drainage company in order to minimize their vulnerability to root intrusion.
Cast iron pipes are sometimes considered best for using in sewers, however, despite its popularity as a strong metal, when used in plumbing it can be very vulnerable to rust and oxidization, therefore it may not be the best option for preventing root invasion
Plastic pipes are flexible and probably the best option for installation in sewerage networks. Plastic pipes do well during ground movements. Plastic pipes can also be fused together or repaired using latest plumbing technology.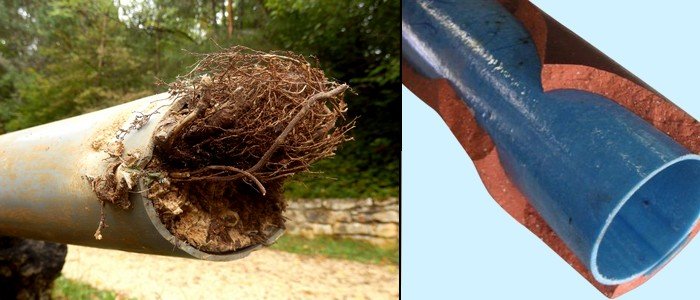 How To Stop Roots From Growing Into Pipes
The latest developments in plumbing tool technology is improving the ability of plumbers to be of more service to their customers. The optimum method of preventing root intrusion is to have an annual CCTV sewer inspection. The drain camera will provide a view of the inside of the sewer line, allowing you to see if there are any sloping or collapsed sewer line which would allow a tree root to gain access to the drain.
Any drainage problems found can be fixed before the roots have the chance to gain access and cause a blockage in the drain.
How To Get Rid Of Roots In Sewer Line
Drainage industry developments over the past decade or so have provided more options to plumbers who now have a wider choice of solutions for removing roots from drain pipes. Historically the tree roots have been trimmed by the use of a flexible plumbers snake cutting machine that had blades attached. This technique, however, did not do a thorough job with the largest of roots, leaving the only alternative to be full drain replacement, which inevitably led to massive and expensive excavation. This together with the huge disruption and mess to the property's grounds, gardens and driveways, leaves a lot to be desired.
Hydro Jetting, using a high pressure water jet is another tool many drainage engineers will use for drain clearance. The hydro jetter uses high pressure water to blast off roots and debris that may be creating a blockage in the pipes. Water pressures of 4,000 – 6,000 psi, leave pipes clean and free from roots. High Pressure Jetting is the best technique to remove roots and although roots will stay away for a long time, this is not a permanent solution.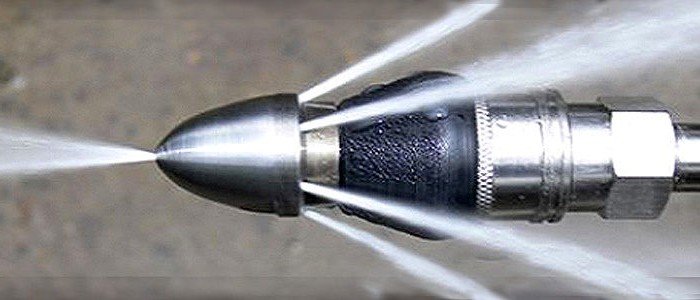 Trenchless technologies have now become the preferred method for fixing or replacing sewer pipes with minimal excavation, reducing excavation areas by up 95% percent and such technology requires just one entry and one exit point.
Introducing the pipe rehabilitation technology known as a drain liner, the liner approach uses absorbent sleeves combined with a resin compound that is installed inside the pipe, resulting in a pipe within a pipe system. Special tools insert the sleeve inside the pipe and the resin then cures to allow the sleeve and the resin to become as one, and as hard as a new plastic pipe without joints.
Reading Drain Services have expertise in all aspects of sewers and drainage and offer a 24 hour drain unblocking services for both residential and commercial customers throughout the Reading, Berkshire area. Using the latest technology and powerful equipment, our fully qualified and experienced drainage technicians can clear roots from drain pipes any time of the day or night.
Why Choose Reading Drain Services If You Have Roots In Your Drain?
We are an independent, friendly, family-owned business that has been clearing roots from drains throughout Reading and the surrounding areas of Berkshire since 2001. We are not a franchise and can, therefore, charge better rates as we do not have to pay any third parties. We have become the expert local roots in drains removal company and are renowned for delivering fast and efficient root clearance services at a competitive price. Our reputation has been founded on the provision of high standards, reliability and cost-effectiveness.
How Much Does Roots In Drains Removal Cost?
There is no call out charge for our 24-hour emergency drain service for properties in the Reading area. Using our state of the art drain camera our drainage engineer will assess the problem in your sewer pipe and then if it is roots in your drain causing the blockage he will remove them.
Once all of the roots have been removed from your sewer pipe and provided the roots haven't caused the drain to collapse, then our engineer will apply a drain lining to prevent the roots from getting back into the drain pipe in the future. If you do need a collapsed drain repair then that would require us to excavate the drain, replace the pipe, backfill and reinstate the drain. Our drainage engineer will be able to advise you and give you a quote for the work required to remedy your drainage problem. You can then decide whether you want him to proceed with the work or not.
Some Areas Of Berkshire Our Drain Specialists Operate In
If your area is not mentioned above but you live within 25 miles of Reading Berkshire and you are in need of professional 24 hour drain unblocking services then give us a call as we will be able to help.
Need Help Removing Roots From Drain Pipes?
If you would like more information on our drainage solutions, contact us today.
[contact-form-7 404 "Not Found"]